Migrate Legacy Control Systems in Manufacturing
Full-Service Control Systems Integrator for Process and Packaging.
Why You Need Legacy Control Systems Migration?
Technology is changing at a rapid rate, so is the world that our customers serve.
Over time, even the most advanced control system will become obsolete — modern capability requirements will expand, communication protocols will improve, vendors will discontinue replacement parts and support will become exceedingly harder to obtain. Every business will need control system integrators at some point. Allen Bradley PLC 5 to Controllogix is one of the more recent examples of this. 
Without a life cycle analysis, how will you know when it's the right time to upgrade from a legacy PLC or DCS system to a control system that can support future growth?
Developing a detailed plan and strong controls migration strategy can depend on finding a progressive, future-focused systems integration partner — a partner such as Quantum Solutions. Whether it's replacing a single controller or changing systems throughout multiple lines and/or plants, QSI has the tools, experience, and proven track record to help you plan for a stable and successful future.
Start the Migration Now!
Don't wait until your control system is on its last leg. Update your system now to avoid a major pain point in operations down the road. 
Waiting to replace an obsolete controller at the time of failure can result in
Days of downtime and much higher costs
than if the migration strategy were planned ahead of time.
Increased operational costs
the longer an obsolete control system is in place.
Limited or out-of-production
Aging or retiring workforce capable of maintaing
Communciations & diagnostic limitations increase troubleshooting difficulty
Decreased efficiency and performance issues
resulting from older control systems that are at or near their workload capacity.
Quantum Solutions is Your Migration Partner
Quantum Solutions is helping engineering, maintenance, and facility managers across the country with legacy control migration. We have the lessons learned, the experience, the resources, and the proven customer relationships that comes with over 20 years of successful controls systems know-how. Our control system integrators can help modernize your systems for improved efficiency.
Upgrading to a newer control system with Quantum Solutions brings a number of benefits, including:
Increased Flexibility, Performance, Visibility, and Data
all factors in running a plant more efficiently, with better yield and less waste.
Higher Reliability and More System Features
including faster, more accurate process control.
Greater Network Security, Efficiency, and Redundancy
that come with standardizing on a single control network platform with proper segregation.
Reduced Maintenance Requirements and Lower Operating Costs
eliminate the need for staff to be trained in multiple software and communication platforms and save OpEx funds spent on annual software licensing.
Available Credits and Discounts
for system replacement through quality integrators, like Quantum Solutions.
Allen Bradley PLC 5 to Controllogix Migration – Kraft Heinz
The Allen Bradley PLC 5 system has been around for many years as one of the first and most popular programmable controllers. Now that the PLC 5 has been discontinued, the migration to Controllogix is necessary. Quantum Solutions provided a complete conversion for the Kraft Heinz Company for the migration of the Allen Bradley PLC 5 to Controllogix for an efficient, modern, and updated system.
The Right Approach
Replacement isn't an overnight solution. Whether the migration happens all-at-once or is carried out over time, it takes a carefully-laid strategic plan to do it right. The professionals at Quantum Solutions can lead you through the process for guaranteed results.
Phase One-Site Survey
Define a Plan

Gather Information On-Site

Control System Overview
Phase Two-Assessment & Consultation
Consultation

Analysis & Report

Solution Recommendations

Flexible, Long-Term Planning
Phase Three-Execution
Define Stop Gap Measures

Custom Integration Plan
With over 20 years of experience in the industry and over 100 years of combined experience in the leadership team, Quantum Solutions can be your dedicated and reliable partner in your legacy control migration. We have the right experience, engineers, knowledge, approach, and support to help you migrate your legacy control systems.
Quantum Solutions can help you migrate from older systems, such as the Allen Bradley PLC 5 to Controllogix, in order to become more productive and effective.
Contact us today to start upgrading your legacy control systems!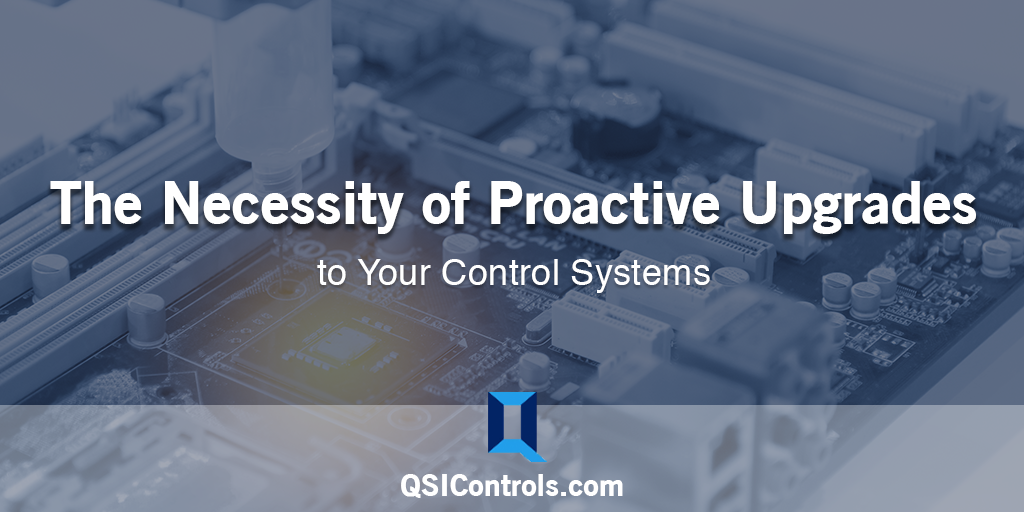 Nothing lasts forever. Especially our consumer goods from...
read more
Contact us to learn more.