PLC Migration Challenges
Migrating systems can be a challenge for any manufacturer. Some companies find it difficult to work migration into their budgets, while many manufacturers can only offer a limited amount of downtime to allow for the migration or upgrade.
However, migrating system technologies can help mitigate future risks associated with the system.
Arc Advisory Group reported on the Global DCS Migration Market Outlook: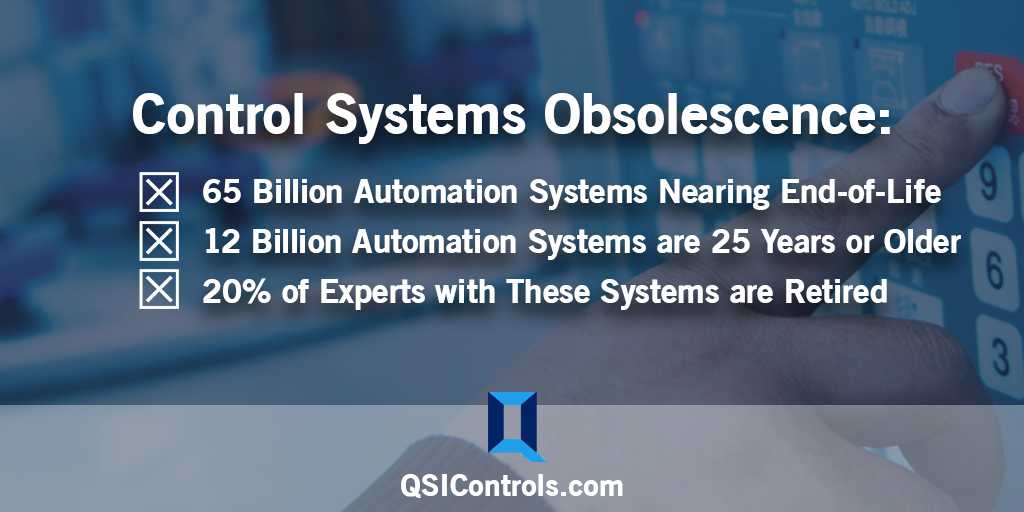 Very often, manufacturers are producing their products and materials on outdated systems that are even nearing the end of life. Therefore, these manufacturers lack the range benefits of updated manufacturing technology.
Not only are outdated systems cumbersome, they also can cause some disadvantages to the manufacturing, packaging, and inventory processes that can be mitigated by implementing an updated technology.
Use of Obsolete PLC-5s
Continued use of obsolete systems, such as PLC-5s and other equipment, can be very costly to an organization. Obsolete systems result in higher spare part costs, such as maintaining a larger inventory for process system materials.
Obsolete systems cause manufacturers to be unable to reach their full production and packaging capacities, resulting in lower production and efficiency.
Limitations of Outdated Production and Packaging Systems
Another issue with utilizing outdated PLC-5s is the limitations associated with the system. As technology evolves, communication networks become limited, causing additional costs to work with or around the limitations.
Support with the systems becomes harder to find and more costly. Breakdowns and issues increase, and maintenance becomes cumbersome.
The Kraft Heinz PLC-5 Conversion
The Project Goal: PLC-5 to ControlLogix Migration
Quantum Solutions Inc. (QSI) was chosen to provide complete design, programming, implementation and commissioning to replace three outdated Allen-Bradley PLC-5 processors for The Kraft Heinz Company in Granite City, Illinois.
These outdated, nearing end of life PLC-5s were converted to the newer, upgraded Allen-Bradley 5570 ControlLogix processors. Two 4 stream in-line blending systems and a batching system were all to be converted.
Challenges in the PLC-5 Conversion
While converting an entire PLC system is never a simple task, there were a variety of challenges that Quantum Solutions needed to overcome and find solutions for in order to ensure project success in a timely manner.  For example, it was critical to project success and business operations that Quantum Solutions perform the upgrade and migration with a minimal window of downtime available.
Kraft Heinz was not able to provide much downtime due to the production requirements. It was important to minimize downtime so that Kraft Heinz did not see a large impact on production. QSI engineers were able to engineer an implementation plan that was capable of decreasing the amount of downtime needed for the conversion.
Another challenge associated with minimizing downtime was the utilization of existing wiring. In order to minimize the overall downtime and make the conversion more efficient, QSI had to utilize existing wiring while updating both the PLC and the outdated communication networks.
To maintain the goal of minimal downtime and outages during implementation and install, QSI designed and engineered a method to minimize the total amount of wiring changes necessary for the conversion.
The PLC-5 Conversion to ControlLogix & the Results
Quantum Solutions provided a complete conversion for the three outdated Allen-Bradley PLC-5s to the updated Allen-Bradley 5570 ControlLogix processors. Following the complete design, engineering, and programming, Quantum Solutions commissioned and implemented the new platform with only one-weekend outage for the company. Due to this, Kraft Heinz experienced minimized downtime in production for the facility.
With modernized Kraft Heinz's control systems, they will be able to continually upgrade communication networks and device IO to the latest communication protocols as they change. Previous to the PLC-5 conversion to ControlLogix, Kraft Heinz was not able to complete these upgrades.
The plc-5 conversion gave Kraft Heinz the flexibility and visibility to easily set up for the newest Industrial Internet of Things (IIOT) technologies in manufacturing.
Kraft Heinz was able to lower maintenance costs by eliminating the need to maintain a large inventory of spare parts for outdated systems. Kraft Heinz now has greater production visibility to quickly respond to demand and production changes. Kraft Heinz can now easily ensure regulatory compliance and minimize security risks with the visibility now available over their processes.
What Kraft Heinz is Saying About Us
"We have worked with QSI in this particular facility for more than 18 years, and through every transition, there has never been a doubt that we would keep that relationship despite all the other qualified system integrators we meet.  It's amazing how everyone on the QSI team, both new and long-standing employees, are just a really good people–the kind you like to be around. The engineers are very experienced with both legacy systems and the latest technologies which allows them to find innovative ways to balance cost and value as our plant operations grow and change.  We trust and rely on the QSI team because they have always been straightforward in completing projects with a level of service that exceeds our expectations."   Mark Coleman, The Kraft Heinz Company
Quantum Solutions can create an entire conversion plan for a PLC-5 migration for your company. Contact us today to get started migrating your legacy systems.